[fusion_builder_container admin_label="" hundred_percent="no" equal_height_columns="no" menu_anchor="" hide_on_mobile="small-visibility,medium-visibility,large-visibility" class="" id="" background_color="#5bc2e7″ background_image="" background_position="center center" background_repeat="no-repeat" fade="no" background_parallax="none" enable_mobile="no" parallax_speed="0.3″ video_mp4="" video_webm="" video_ogv="" video_url="" video_aspect_ratio="16:9″ video_loop="yes" video_mute="yes" video_preview_image="" border_size="" border_color="" border_style="solid" margin_top="0px" margin_bottom="0px" padding_top="" padding_right="" padding_bottom="" padding_left=""][fusion_builder_row][fusion_builder_column type="1_1″ layout="1_1″ spacing="" center_content="no" hover_type="none" link="" min_height="" hide_on_mobile="small-visibility,medium-visibility,large-visibility" class="" id="" background_color="" background_image="" background_position="left top" undefined="" background_repeat="no-repeat" border_size="0″ border_color="" border_style="solid" border_position="all" padding="40px 0px 0px 0px" margin_top="" margin_bottom="" animation_type="" animation_direction="left" animation_speed="0.3″ animation_offset="" last="no"][fusion_title margin_top="" margin_bottom="" hide_on_mobile="small-visibility,medium-visibility,large-visibility" class="" id="" size="1″ content_align="center" style_type="none" sep_color=""]
Ed Rocks Changes the World – Two kids at a time
[/fusion_title][/fusion_builder_column][/fusion_builder_row][/fusion_builder_container][fusion_builder_container admin_label="" hundred_percent="no" equal_height_columns="no" menu_anchor="" hide_on_mobile="small-visibility,medium-visibility,large-visibility" class="" id="" background_color="" background_image="" background_position="center center" background_repeat="no-repeat" fade="no" background_parallax="none" enable_mobile="no" parallax_speed="0.3″ video_mp4="" video_webm="" video_ogv="" video_url="" video_aspect_ratio="16:9″ video_loop="yes" video_mute="yes" video_preview_image="" border_size="" border_color="" border_style="solid" margin_top="" margin_bottom="" padding_top="" padding_right="" padding_bottom="" padding_left=""][fusion_builder_row][fusion_builder_column type="1_2″ layout="1_2″ spacing="" center_content="no" hover_type="none" link="" min_height="" hide_on_mobile="small-visibility,medium-visibility,large-visibility" class="" id="" background_color="" background_image="" background_position="left top" background_repeat="no-repeat" border_size="0″ border_color="" border_style="solid" border_position="all" padding="" dimension_margin="" animation_type="" animation_direction="left" animation_speed="0.3″ animation_offset="" last="no"][fusion_text]

One of the biggest problems worldwide is that one in five children throughout developing nations lack access to schooling. This lack of education ensures that the cycle of poverty and vulnerability are repeated for generations. We challenge the status-quo with a movement that breaks that chain of poverty – two students at a time.
Ed Rocks is found in schools around the U.S. Our team is on the ground in Bali building out a network of kids in need, and we help connect them with kids back in the U.S. who care and sign on to sponsor their education. While we began in Bali, our goal is to expand to other developing countries over time.
[/fusion_text][/fusion_builder_column][fusion_builder_column type="1_2″ layout="1_2″ spacing="" center_content="no" hover_type="none" link="" min_height="" hide_on_mobile="small-visibility,medium-visibility,large-visibility" class="" id="" background_color="" background_image="" background_position="left top" background_repeat="no-repeat" border_size="0″ border_color="" border_style="solid" border_position="all" padding="" dimension_margin="" animation_type="" animation_direction="left" animation_speed="0.3″ animation_offset="" last="no"][fusion_text]
Here is what the U.S. student sponsors do:
Commit to raise $365 to sponsor a year of school for their Bali student.
Create their own platform to determine how to raise funds which requires initiative, motivation, creativity, determination, responsibility, and problem solving – all incredibly valuable life and business skills.
Develop a close relationship with the student they are sponsoring through ongoing communication (letters, video, etc.). Developing this close relationship completes the cycle of giving and creates life-long givers.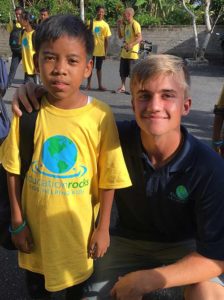 Education Rocks opens minds, builds self-esteem, establishes confidence and drives personal growth. Kids not only rise to this challenge by bringing their own unique perspective to fulfilling their commitment. The emotional and experiential connection to the difference they are making expands their compassion, empathy and understanding of the world on a global level. Throughout this process, they develop a deep connection with another culture, another country, and a kinship with another kid – all while personally creating positive social change.
[/fusion_text][/fusion_builder_column][/fusion_builder_row][/fusion_builder_container]